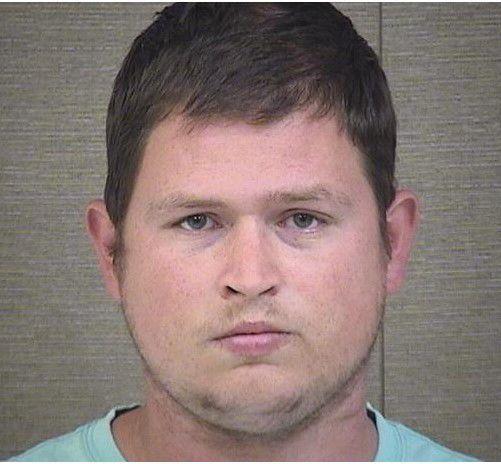 CAMERON — Family members spent more than 12 minutes trying to revive a 5-day-old child whose death Nov. 23 resulted in his father being charged with murder.
Details of the 2:43 a.m. incident in Cameron were revealed Friday when authorities released the 911 call made by the baby's uncle.
Christopher Joseph Riddle, 28, of Blenheim, South Carolina, about 50 miles west of Lumberton, is charged in the death of his son, Triston Riddle, according to the Harnett County Sheriff's Office.
An autopsy found the child had suffered blunt force trauma to the head, according to a news release.
Emergency workers were called to 1944 Cameron Hill Road by the baby's uncle just before 3 a.m.
"My nephew is not breathing," the male caller said, identifying his relationship to the child. The caller's name was not released.
In the background, a woman, presumably the baby's mother, can be heard crying.
"He's under a week old. He was just born Tuesday," the uncle told the dispatcher. "He's not breathing."
He said the child was "completely pale."
The dispatcher gave instructions to the caller on giving CPR to the infant.
"My sister's boyfriend is holding him," the caller told the dispatcher. The sheriff's office confirmed Friday that the boyfriend was the baby's father.
For several minutes, the dispatcher gave instructions which the uncle appeared to pass along to someone else.
The dispatcher asked at intervals if the baby was breathing.
The mother can be heard in the background asking, "Where did you put him," and a male voice, not the caller, responding, "I put him in the swing for one minute..."
Later in the call, the woman is heard, possibly talking on the phone to her own mother, and saying, "I have no idea. Chris said he put him down in the swing for one minute.."
The end of the sentence can't be discerned due to the distortion added to the voices on the recording by the sheriff's office.
At one point, the caller said the infant was making noises.
"Come on, come on," a voice can be heard urging the child.
Then, the caller told the dispatcher there was no response.
Medical crews and a deputy arrived some minutes later.
"I've been doing this for almost 12 minutes," the uncle said. "I've been on the phone with the lady the whole time."
The call ends there.
Riddle was arrested Wednesday in South Carolina and booked into the Harnett County jail Thursday, records show. He is being held without bail.
Nancy McCleary contributed to this report.